Biocompatible material developed using Pohang Accelerator
성수 최
2009-05-06
View. 3,729
Seen to have applications as coating material for side effect-free artificial organs, medical equipment.
The Pohang Accelerator Laboratory (Director Ree Moon-hor) announced on April 23 that its studies on biocompatibility using the Pohang Accelerator have allowed it to identify a "brush polymer" that simulates the structure of cell walls, and to develop a new material that can be used in the human body.
The study, which was conducted by lab director Ree Moon-hor and lab researcher Dr. Kim Ga-hee, was published on April 14 in the online issue of Advanced Functional Materials, a world-renowned materials science journal.
According to the Korean researchers, cell walls play a key role in the stable maintenance of cellular structure and functions by protecting materials inside the cell and by controlling the entry and exit of materials into and out of the cell. Researchers around the world have conducted extensive studies to develop a polymer material that simulates the cell wall, but had thus far failed to recreate the complete nanostructure of the cell wall.
The Korean researchers created a brush structure by attaching a "long alkyl chain" on poly glycol, which maintains a regularly linear form, and introduced phospholipid at the edge, thus successfully synthesizing a brush polymer, which is similar in structure to human cell walls.They then identified the complete nanostructure of the brush polymer using a 4C2 small angle X-ray scattering beamline from the Pohang Accelerator.
Initially, the researchers confirmed that protein and blood platelets, which are related with blood clotting, did not stick to the surface of the brush polymer. They also demonstrated that the material could be used as a biological material through an experiment in which they inserted the brush polymer into the subcutaneous tissue of mice.
They further observed that various pathogenic germs existing in the body died upon coming into contact with the surface of the brush polymer film. As such, the material is expected to have many applications as a high-performance, highly bactericidal biomaterial that can be used to prevent secondary infections in the human body.
Experts say the study comprises the first time that anyone has successfully recreated the complete nanostructure in the form of cell walls through a simple coating method.
Dr. Kim Ga-hee said, "Bio-synthesis technology is presently a hot topic in global circles, and the study is expected to contribute to the development of coating materials for artificial organs and medical equipment that induce no side-effects."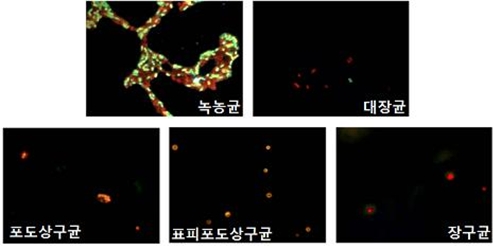 (Photo) Image of germs killed after sticking to the brush polymer material.
?
Hello DD.com
Ji Na-ra
nara at hellodd.com
?
[May 06, 2009]
- - - - - - -
Source - HelloDD.com