Improving KISTI infrastructure and curation practice to promote open access to scientific and technological information
Youngju Son
2020-04-17
View. 24,301
Improving KISTI infrastructure and curation practice to promote open access to scientific and technological information
KISTI, Korea Open Access Platform "KOAR" Open
KISTI(Korea Institute of Science and Technology Information) has launched KOAR(Korea Open Access platform for Researchers, https://koar.kr), a platform to help Korean researchers access, publish, self-archive, and monitor open access articles, on February 27, 2020. KOAR will enhance the information accessibility and play a role of the national repository.
Researchers can access over 21 million open access articles collected from all over the world through KOAR. KOAR holds 194,138 open access articles from national R&D projects. It also has over 1,000 Korean open/free access journals.
KOAR runs a repository to self-archive open access content for researchers and learned societies, and provides SAFE(https://safe.koar.kr), a system to help researchers avoid predatory journals and conferences.
Currently, KOAR has only Korean version; however, it plans to provide its website in English by the end of 2020 so that international researchers can search and access Korean open access articles.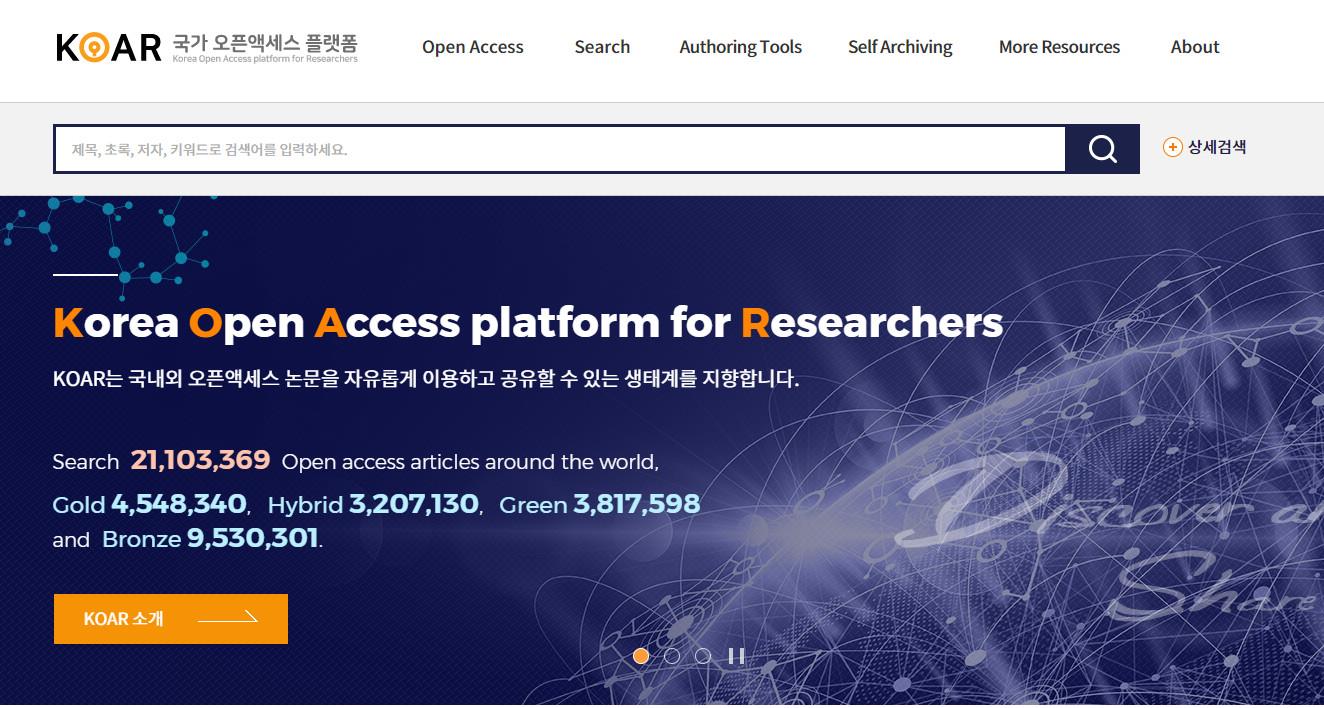 Constructing High-Quality Content Based on KISTI Curation Lifecycle Model
KISTI holds and provides Korea's largest scientific and technological content. Since 2018, KISTI has developed and upgraded the KISTI curation lifecycle model to conduct systematically and efficiently KISTI's content curation practices. The KISTI curation lifecycle model adapted UK's Digital Curation Center(DCC) curation lifecycle model that has influenced many lifecycle models around the world since 2008. The DCC reviewed the KISTI model and acknowledged its excellence. Particularly, it appreciates that the KISTI model has "User Experience" and "Stakeholder Collaboration."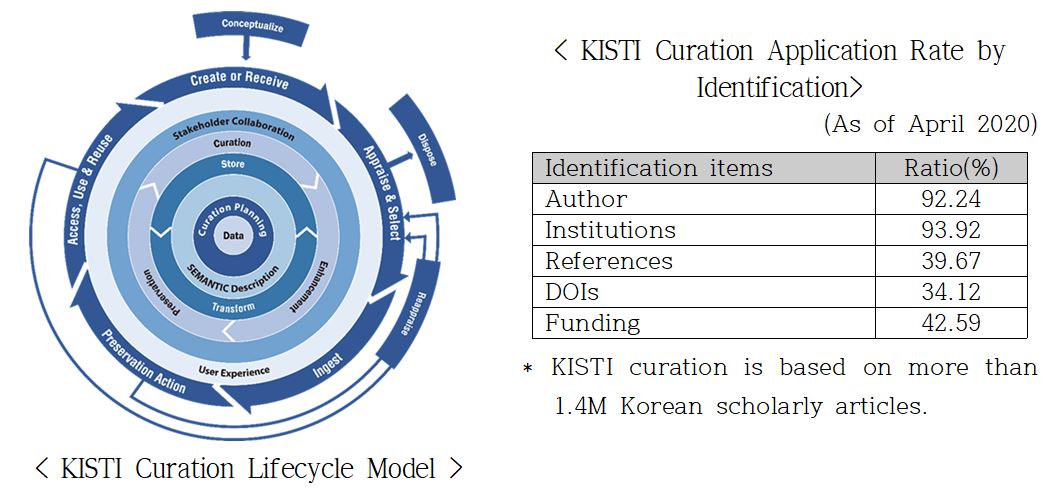 Based on KISTI model, KISTI enhanced curation application rate by identifying references, authors, institutions, DOIs, and funding.
The KISTI model, the implementation strategies, and identification activities can be adopted to construct high-quality scientific and technological infrastructure at the national level. Moreover, they are expected to be adopted by many libraries and information centers.