S&T Policy and R&D Innovation to overcome COVID-19
박한철
2021-03-02
View. 50,424
KISTI has introduced the science and technology policy directions and R&D innovation contents in major countries in the world to overcome the Corona 19 crisis in its Issue Brief Vol.30. It also provides knowledge, implications, and countermeasures based on information data-based analysis techniques related to recent national social issues.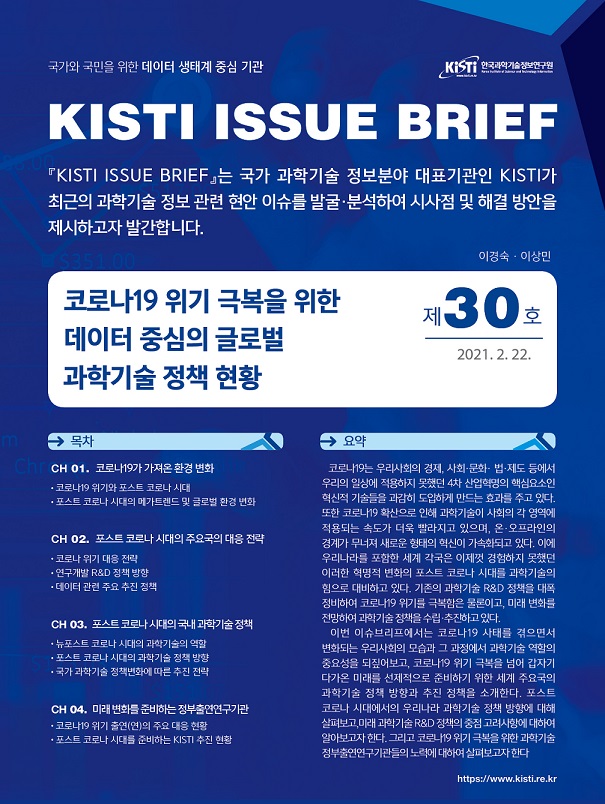 According to the Issue Brief, the PostCorona society is expected to be recorded as a digitization momentum in the social and economic structure due to the increase in non-face-to-face life patterns, decline in collectivism, and the normalization of telecommuting and distance education. It is expected that non-face-to-face services will become common, the biohealth market and concept will be expanded, and the role of government will be strengthened according to routine risk management in everyday life.
Accordingly, the United States is enacting the Coronavirus Support Relief Economic Stability Act, implementing large-scale financial support, and investing large-scale financing in the R&D field of infectious disease. Germany is promoting digital transformation in existing industries through key industrial investments, and expanding the budget for R&D (vaccines, drug development, etc.) related to Corona 19. Japan has set an innovation strategy direction that focuses on remedying the damages of the manufacturing industry from Corona 19 and digital transformation in the future. In addition to its R&D strategy, China is promoting a wide range of measures such as production, high-tech, SME support, manpower policy, and science and technology governance.
Major foreign countries' science and technology R&D policy directions are emerging as large-scale investment expansion to cope with the global value chain change and trade blockage caused by Corona 19. The role and policy direction of domestic science and technology in the new normal era were also presented.
He said that it is necessary to provide objective data based on scientific facts on the social change of the corona crisis, research infectious diseases and provide scientific and technological answers for responding to the new normal era, and prepare for a preemptive future based on science and technology. It has been revealed that the R&D model innovation and the digital transformation of the industry can turn crisis into an opportunity, and advance to a better future through online education, reinforcement of crisis response research, and data-based policies.
KISTI also explained that it intends to respond to the new normal era by providing a national supercomputing infrastructure, building a science and technology data dam, data-based research, and providing an R&D innovation platform.
Cho Kumwon, Acting President of KISTI said, "In order to reflect on the changing aspects of our society and the importance of science and technology roles in the process, and to preemptively prepare for the coming future, KISTI will put more efforts into R&D innovation with government research institutes(GRIs)