KISTI published a book entitled "A Study on the 3D Printing Industry Revitalization Plan,"
박한철
2021-03-29
View. 63,237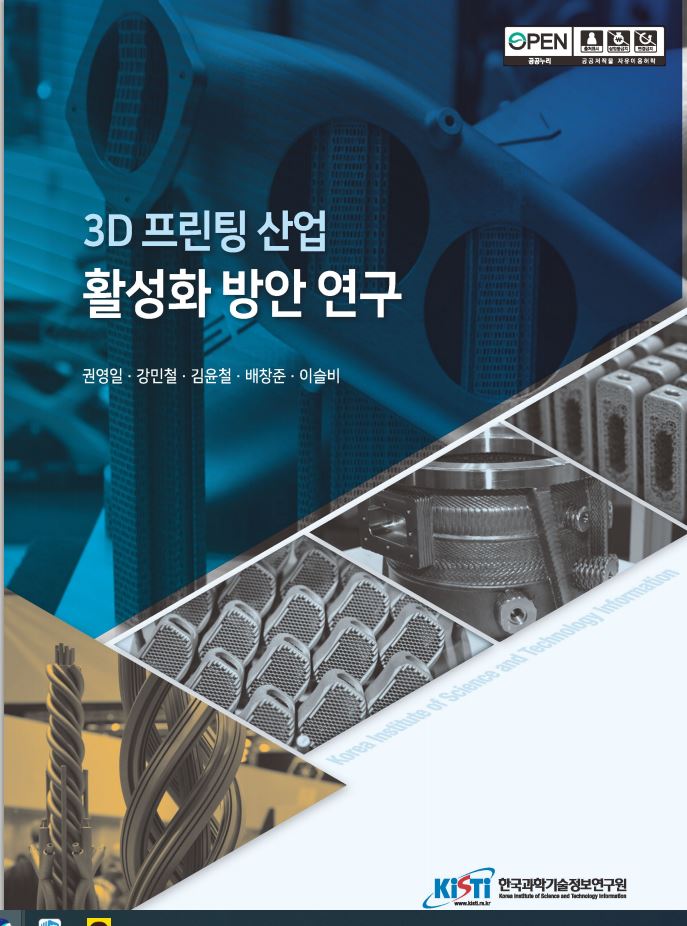 KISTI published a book entitled "A Study on the 3D Printing Industry Revitalization Plan,"
covering 3D printing technology and material information by experts in machinery, metals, polymers, and ceramics.
KISTI said, "In the situation that 3D printing is popular domestically and internationally, but related specialized books are insufficient,
the principles of 3D printing, materials, software, application fields, etc. are systematically organized for each technology and material
to provide a clear view of the latest trends."
Along with the 4th Industrial Revolution, 3D printing, which is called the digital revolution of manufacturing systems, is attracting attention because
it is highly likely to bring about a transformation of the traditional business model along with the existing manufacturing method innovation.
The global market for 3D printing is expected to reach 26.2 billion dollars (about 29 trillion won) in 2022. Currently, in the global 3D printing industry,
a number of overseas companies such as the United States, Japan, China, and Europe are leading the business based on their technology,
and they are taking the lead in product commercialization by applying 3D printing to the manufacturing process.
In the case of the domestic market, it has been used for manufacturing prototypes in the fields of education, aerospace, and automobile parts manufacturing over the past several years, and is being used in the production of ed products, mainly in medical, dental, and consumer goods.
The market growth rate has been somewhat sluggish so far, but the government is actively discovering successful cases to raise the market
size to 1 trillion won by 2022.