What is the promising technology in the future?
박한철
2021-09-23
View. 64,244
KISTI has hold '2021 Promising Technology Seminar' under the theme of 'The Future Promising Technology Created by the Digital Revolution' at COEX in Seoul on Sep. 10th. In this seminar, promising future technologies derived by analyzing scientific and technological data and successful commercialization cases were presented.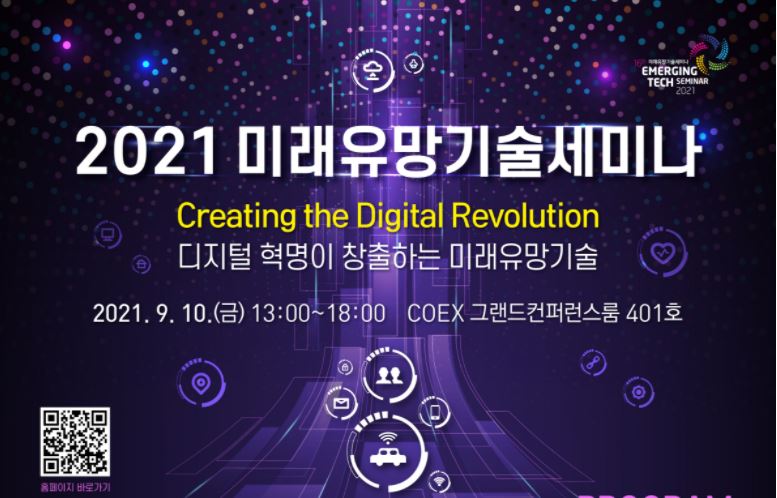 Promising technologies for the future include △deep learning △parasitic computing △platform-based community △agile and ragile manufacturing △energy cloud △new carbon material △human-earth symbiosis △on/off mental health △expansion from DNA to RNA △with corona .
At the event, △New normal era, how the market responds (CEO Jong-yoon Kim, CEO of Yanolja) △The future of metaverse drawn by SK Telecom (Jeon Jin-soo, SK Telecom Metaverse CO head) △ Subscription Economy that stimulates digital transformation of companies (Jin-hyeok Ahn, Vice President of Kakao) △ Thematic presentations on quantum computing tasks and directions using superconducting qubits (Dr. Hanhee Baek, IBM) were followed.
Also, 'Digital Healthcare Future Strategy' by Celltrion Exeive Vice President Sooyoung Lee, 'Strategy and Technology for Carbon Neutrality' by Inwan Son, Exeive Director of Hanwha Solutions Central Research Institute, 'Future Technology Discovered in Data' by Dr. Hyeyoung Yang of KISTI, Dongkyu Won KISTI R&D Investment Strategy Research Center Jang's 'promising fields for government R&D investment' were introduced.
Dr. Kim Jae-soo, president of KISTI, said, "Science technology and data analysis help rational and accurate value judgment in the new normal era. "