KISTI & ETH Zürich combine forces to build and develop the world's 1st high-security research core network
이정훈
2022-04-22
View. 47,235
KISTI & ETH Zürich combine forces to build and develop the world's 1st high-security research core network
- KISTI & ETH Zürich signed a MoU -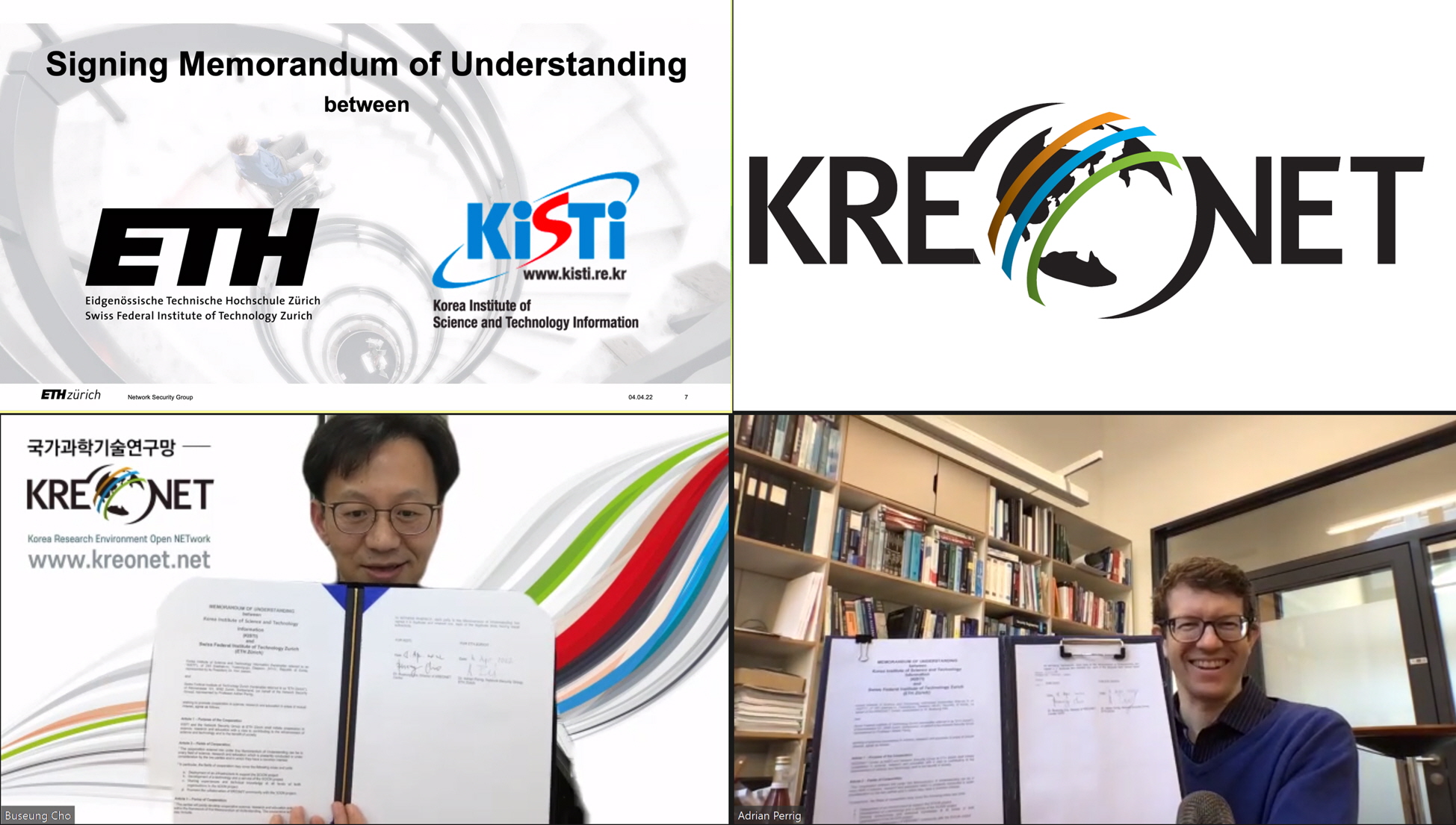 Dr. Cho Bu-seung, director of KREONET Center, KISTI, and
Prof. Dr. Adrian Perrig, department of Computer Science, ETH Zürich

On April 4th, KISTI and ETH Zürich signed a MoU online to build and develop the world's 1st high-security research core network which overcame IP/BGP*-based network problem through SCION** technology, a next-generation internet architecture.
*SCION(Scalability, Control, and Isolation On Next-Generation Networks) : A future internet architecture developed by the SCION team of Network Security Group, ETH Zürich which is led by Prof. Adrian Perrig. And it has dramatically enhanced a security to solve existing internet security issues, so that currently it is used by more than 7 ISPs incluidng the Swiss National Bank(SNB).
** BGP(Border Gateway Protocol) : A gateway protocol to exchange routing information between autonomous systems(AS) for connecting different networks.

KISTI's national research network, KREONET has been promoting a cooperation with Network Security Group of ETH Zürich from 2017. And from this year, through a full discussion, KREONET will work together as representing Asia with the European data network GEANT and the United States network consortium Internet2 to establish a SCION-based global research core network which is more secure than the existing internet.

KREONET is a world-class national research network that can transmit large-scale research data in the field of big science and convergence research at high-speed. Through the MoU, it can be expected that a collaboration about constructing a SCION-based secure S&T research network backbone, obtaining testbeds for verifying the future internet architecture technology and building the world's 1st high-security research core network as the Asian representation research network.

Cho Bu-seung, director of KREONET Center said, "This cooperation with the SCION team of ETH Zürich will strengthen collaborations for that not only establishing a SCION-based secure research network backbone service but also practical researches about a SCION-driven carbon neutral next-generation networking technology."

Also Prof. Adrian Perrig who lead the SCION project said, "KISTI is a pioneering research institute in networking, and KREONET is a representative national research network in Asia. We are very excited to collaborate with KISTI to build the world's first high-security research network."