IDW 2022 & Open Science Workshop completed successfully
이정훈
2022-07-29
View. 38,874
IDW 2022 & Open Science Workshop completed successfully
- Strengthening international cooperation of open data-based R&D -

KISTI hosted the world's largest data conference, International Data Week 2022 and co-events, under the theme of 'Data which is for better world making' on Seoul Dragon City Hotel from June 20th to 24th.

IDW 2022 was a joint holding event to open & share research data with international organizations of data such as, Committee on Data(CODATA) which is an affiliated organization of International Science Council(ISC), World Data System(WDS), Research Data Alliance(RDA) which is the world's biggest research data initiative. And also KISTI, Korea Institute of Geoscience and Mineral Resources(KIGAM), Korea Institute of Oriental Medicine(KIOM), Korea Research Institute of Standards and Science(KRISS), National Library of Korea, and SungKyunKwan University(SKKU) hosted jointly. Furthermore for a successful hosting, Korean Ministry of Science and ICT, Korean Ministry of Culture, Sports, and Tourism, Seoul Metropolitan Government, National Research Council of Science & Technology of Korea, Korean National Commission for UNESCO and Korea Tourism Organization sponsored.

For this event, a large number of experts and notables from data-related international organizations, Seoul Metropolitan Government, National Assembly of the Republic of Korea, research institutes, libraries, universities, and companies participated. This proves the advent of the era of data economy that affects not only S&T fields but also all fields, with an importance of data. 827 people(216 Koreans and 611 foreigners) who are data sharing-utilization researchers, enterprisers, policy experts, data scientists and data managers from 50 countries of all over the world(13 Asian countries, 20 European countries, 5 African countries, 2 North American countries, 4 South American countries, 2 Oceania countries, 4 Middle Eastern countries) attended the event online & offline.

IDW 2022 was consisted of 139 sessions for 5 days: ▲8 plenary sessions under the theme of 'Data which is for better world making', ▲19th RDA plenary meeting's 73 sessions under the theme of 'Global infrastructure development and support to promote data sharing and re-use', ▲47 sessions of SciDataCon 2022 about the issues related research data, ▲KISTI Open Science Workshop and such 7 co-hosted events and 4 poster sessions. And there were various and meaningful discussions to share understanding the importance of Open data & its sharing in the Open Science era, by presentations of data policies and cases.

Also KISTI had a meeting to enhance global cooperations with CODATA and ORCID in this week. Barend Mons, president of CODATA said, "We would like to ask for the role and support of KISTI as a representative organization of CODATA Korea.". Ivo Wijnbergen, manager of ORCID said, "We hope to find collaboration in promoting Open Data by linking KISTI's DataON and ORCID ID.".


In the plenary session under the theme of 'Global State of Open Science', Choi Kwang-nam, director general of KISTI National S&T Data Division introduced all over the world's data experts a status of Open Science in Korea and KISTI, and a policy trend of Open Science in Korea. Furthermore he showed KISTI's platforms: AccessON, DataON, ScienceON, that can show a competitiveness of KISTI.

On the 24th(Fri.), the last day of IDW 2022, KISTI held a one of co-event 'Open Science Workshop'. It aimed forming the understanding and consensus among Open Science stakeholders, and spreading the base of Open Science. The workshop became a place to share a status of national open science and cases to innovate S&T for the future. Industries-academia-research institutes participated online and offline, and its programs were ▲Open Science system·policy status and issues, ▲Direction of big data development through Open Access and Open Data, and ▲Open cooperation for an achievement of Open Science. In the 3 sessions, there were presentations and discussions of the current status and cases.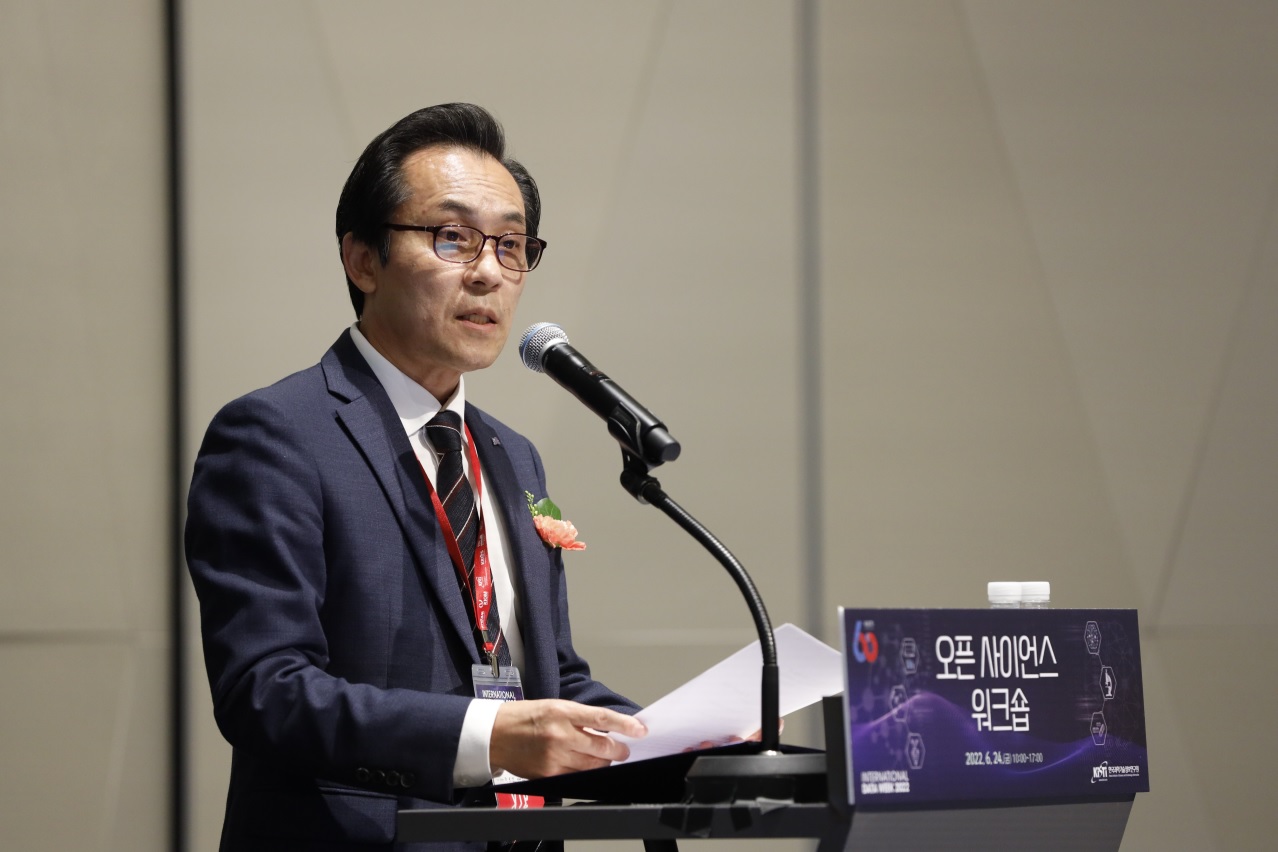 Kim Jae-soo, president of KISTI said, "In IDW 2022 and Open Science Workshop, KISTI got a leading international position of data-driven R&D field by confirmation a capability of developing and supporting global infrastructure to promote data sharing and re-use. And with OECD and UNESCO, we could also lead Open Science by enhancing open data-based global R&D cooperation.".